FixFLEX pipe racks
Looking for safe pipe storage? Lankhorst FixFLEX pipe
racks are field proven & long lasting. Need advice?
Key advantages FixFLEX Pipe Carrier
No need to walk on stacks
Injuries associated with rolling pipe on top of stacks are avoided using FixFLEX. FixFLEX pipe carriers are placed on top of the pipe while the pipes are still on the forklift. The carriers are placed onto the pipe before lifting and both pipe and pipe carriers are lifted together onto the previous layer.

There is no rolling of pipe and no hammering in of stop-chocks. Using the FixFLEX pipe racking system will contribute to improved worker safety and will reduce injuries and resulting lost work hours.

Click on the link to view a video on how FixFLEX is used.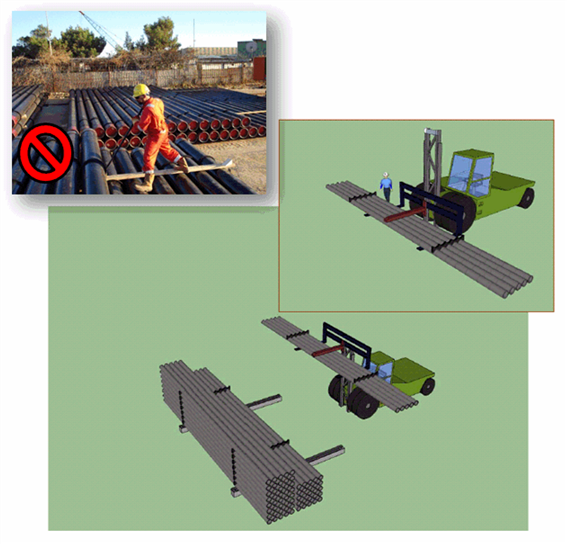 Contributing to optimum pipe condition
Stored on FixFLEX , pipes are fixed in position and do not touch. Coated pipe does not damage and corrosion problems caused by pipe contact are avoided. This makes FixFLEX suitable for storing high chrome alloy pipe. The pipe stacks made using FixFLEX are straight and orderly. Pin and box protectors are easily accessible. This makes for easy stock taking and visual inspection.
Cost benefits in handling
A forklift, not a crane is best used to stack pipe. A single forklift driver can stack by himself. No additional riggers are needed. Benefits are gained in safety, cost and efficiency.
Waste reduction
Lankhorst FixFLEX pipe carriers are produced from controlled sources of recycled polyethylene. The carriers are rugged and are re-used over and over, for many years.